© Disclaimer and Copyright Notice: "All pages, their contents and related items are provided as is. Thus no liability, consequential or otherwise, rising from them is accepted. Where
not already belonging or assigned to others, all material remains our copyright. CAMRA East London & City 2019" Parts of this website were updated 12 August 2019.

PUB NEWS
Pub News here is downloaded from London
Drinker's Whatpub currently 33 into the
information I have been given. Twice yearly
these are merged into the Updates file and
nearly all the updates since 1992 appear
here. New establishments not selling real ale
will not find their way into their way here.
For a list of all establishments see the one
All our pubs on a Whatpub map. See also
map right. A list of lost pubs from 1991 to
February 2015. WHATPUB
Find your pub
NEWS FOR AUGUST
Branch news: A licence has been applied for the
Stag & Lantern, 11-12 The Broadway E4 9LQ.
Hope EC1 now opens at 11am. £1 per pint off
draught beers on Mondays. Gravity Well Brewery
Tap room Arch 142 Tilbury Rd, Leyton, London
E10 6RE. Opening Times Sat 2 - 8pm (or later
depending on customer numbers). Pretty Decent
Brewery Tap Room, Arch 338 Sheridan Rd,
London E7 9EF. Opening Times Thu & Fri 5-11pm
Sat 2-11pm Sun 1-7pm.
Whatpub: Pittcue, EC2M 4YP is closed. Muller &
Briggs E3 2NB is closed. Taproom by Bethnal
Green, Railway Arch 162, Malcolm Place, E2 0EU.
There are approx 20 taps and, apart from a couple
of ciders, all feature beers from London breweries.
NEWS FOR JULY
Branch news: E16 Durham Arms still closed and
boarded up. The lease has been taken over by the
Ministry of startups. It is hiring the venue out as
co-working spaces but has retained the licence to
possibly run as a private club
The following have recently opened
EC3N 2AU Bierschenke - German Beer Hall
formerly Bavarian Beerhouse
EC2A 3EP Green Vic, 42 Great Eastern Road-
Craft and Bottled beer - ethical bar - Planet before
profit.
Whatpub news: E2 7SB Nelsons Head. Renamed
Nelsons and has new owmers BenjaminTodd and
a company called Stagg & Barber Events. 7
draught lines running and another 8 or so in
bottles and cans. But as yet no real ale.
NEWS FOR JUNE
Branch News: EC1 Stanley Pubs have a new
venture called Dame Alice Owen, named after the
local philanthropist. Previously called The
Blacksmith and Toffee Maker. They are aiming to
serve 4 real ales and a craft cider on hand pull.
Food will be as beautiful as their other sites so
they say. The Fugitive Motel, 199 Cambridge
Heath Rd, E2 0ELl opens at 5pm on Friday.
14 craft beers - Cafe + co-working space during
the day - bar in the evening. Opened by 2
musicians.
Whatpub news: E1 5RN Carpenters Arms no real
ale.

Campaigning for real ale,
pubs & drinkers' rights since
1971.
Whatpub update 33 (August 2019)
EC1, ALCHEMIST, 145 City Rd. Reopened.
EC1, BLACKSMITH & THE TOFFEE MAKER (Star). Reopened and renamed DAME ALICE
OWEN by Stanley Pubs. Five handpumps, 4 real ales and a cider. Regular beer is Watney's
Pale Ale.
EC2, GREEN VIC, 42 Great Eastern St. Ethical bar opened in June 2019. It aims to put
planet before profit in all areas. Craft keg beer.
EC2, GOW'S (Novus Leisure). Closed.
EC3, BAVARIAN BEERHOUSE (Bavarian Beerhouse Group), 9 The Arches, Crutched Friars.
Reopened and renamed BIERSCHENKE; still a German Beer Hall.
EC3, CORNEY & BARROW (Drake & Morgan). Renamed MONIKER. Keg.
EC4, CAMINO. Closed and for lease.
EC4, VINYL BAR (Marston's). Renamed OLD CHANGE BAR & KITCHEN with Timothy Taylor
Landlord available recently.
EC4, WOLFGANG'S BIER HAUS
(Applefritterbeer Co). Demolished.
E1, ARCHER (Ei Group). Refurbished
and renamed BUXTON following
addition of a seven-storey hotel with
15 bedrooms. One real ale.
E1, CARPENTERS ARMS. Real ale
no longer available.
E1, JUNO (Distinct Group). Renamed
MATCHBOX.
E2, FUGITIVE MOTEL, 199
Cambridge Heath Rd. A cafe and co-
working space. 14 craft beer lines.
E2, NELSONS HEAD. Renamed
NELSON'S and now operated by
Stagg & Barbour Events. Keg only
beer taps plus cans.
E4, MOUNT, 30-32 Old Church Rd. Reopened.
E8, ALIBI (Real Gold). Now a private members club.
E14, RUM&SUGAR (Drake & Morgan), 1 Warehouse, West India Quay. New bar in a former
cafe called 1802. Specialises in rum but has Meantime and Camden on tap.
E16, DURHAM ARMS (Cubitt). Converted to co-working space via Ministry of Startups
E17, UNTRADITIONAL PUB (Pillars Brewery), Crate Building, 35 St James St. Craft keg beer
and lager.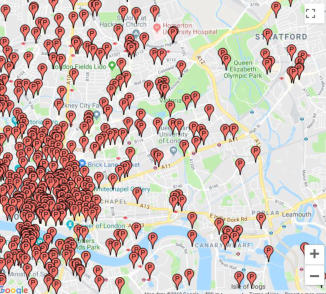 Use Whatpub to plan your crawl
Enter postcode and click VIEW ON MAP