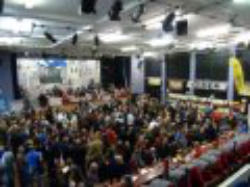 Disclaimer and Copyright Notice: "All pages, their contents and related items are provided as is. Thus no liability, consequential or otherwise, arising from them is
accepted. Where not already belonging or assigned to others, all material remains our copyright. CAMRA East London & City 2016" Parts of this website were
updated 14 June 2016.
Chelmsford Summer Beer &
Cider Festival
Tuesday 1 Dec to 5. London E5 0L
July 5-9. Admiral's Park, Rainsford Rd,
Chelmsford, CM1 2PN
10min walk from Chelmsford Bus & Rail
stations. Open noon to 11pm each day.
CAMRA members free admission all week.
300 Real Ales, 100 Ciders/Perries/Pyders.
Plus Foreign Beer, Local wines, & wide
selection of food. Live entertainment in
evenings. £3 refundable souvenir glass.
Large outdoor marquee festival with a
fantastic atmosphere and Essex biggest
beer garden. 40 minutes by rail from
London & Ipswich. www.cbcf.info
Volunteers required, in all areas including
setting up/down 30th June to 11th July.
Please see website. T/polo shirt, food and
drink tokens included. Volunteer camping
facilities w/showers on site. Always
welcome new and experienced faces.
Twitter @ChelmsfordBEER
FB.com/chelmsfordbeerfestival
27th Ealing Beer Festival
July 6-9th. Walpole Park, Ealing, W5 5BG
(10min from Ealing Broadway Tube & Rail
Stn). Over 500 beers inc 370 cask ales +
cider/perry + foreign bottled beer + english
wines in large marquee. Hot & cold food
available at all times. Pub games, products,
membership and other stalls. Souvenir
glass and programme. Families welcome till
8pm. Music: Wed-Fri evenings. Open: Wed-
Fri 12pm-10.30pm; Sat 12pm-6pm.
Admission: £5, CAMRA £3. CAMRA
volunteers required for evening sessions -
visit website or request staffing form on 020
8933 4934. More details from Graham
Harrison 07535 878996 info@ebf27.uk
Gibberd Gardens Beer Festival
June 18-19 Gibberd Gardens, Marsh Lane,
Harlow, Bedfordshire CM17 0NA
Open each day 12noon-8pm. Approx 50
beers + 8 ciders/perries. Entry incl access
to Famous Gibberd Gardens. Under canvas
drinking area in case of rain. Sunday is
Fathers Day with extra free entertainment
aimed at families. Entry £4, Card Carrying
CAMRA membs & Concession £3, Children
5-15 £1. Parking is ltd. Public transport well
recommended. Harlow – Chelmsford bus
No.59 stops at end of Marsh Ln, 0.25 Mile
walk from fest. Harlow Mill Stn is 0.75 mile
walk through country side footpaths,
specially sign posted for event.
Pigs Ear Beer & Cider Festival
2016
Tuesday 1 Dec to 5. London E5 0LY.
Festival will run from Tuesday November
29th to Saturday December 3rd.
2017 - Festival will run from Tuesday
December 5th to Saturday December 9th.